What is the guaranteed shelf life on perishable products?
All regular-priced, perishable products with manufacturer best by dates will have a shelf life of at least 90 days. When an item hits the 90-day threshold, it will be noted as a short sale item along with the manufacturer's best by date in the product description and may be offered at a discounted price. Please contact The Pastry Depot at 404-458-3194 or [email protected] for any inquiries as to current best by dates on a specific product prior to ordering.
Why am I seeing multiple charges for ice pack kits in my cart when ordering multiples of the same item?
Currently due to a website limitation, when adding multiple quantities of the same item and selecting the option "please add an ice pack kit. . ." it adds the same quantities of ice packs to your cart.  
To remedy this, please select the 3rd option "I've already added an ice pack kit" when adding the chocolate/perishable items to your cart.  Then manually add one ice pack kit per 11 pounds of chocolate to your cart. If you have any questions feel free to reach out to us.
Why didn't I receive Free ground shipping and a percentage discount on the products on sale?
You can only use one discount code per order, whether it is a discount on sale items or discounted Free ground shipping.
Why didn't I receive Free Overnight shipping when I used the free shipping code "GROUND50"?
Currently due to a website limitation, when entering the free shipping code it displays all shipping methods as being "Free", however only Ground shipping will be used in conjunction with the discount code offer.  If you select items that require a faster shipping method, please do not use the discount code and select your desired shipping method.  Please refer to our shipping policy.
What are your hours of operation?
We are open Monday-Friday from 7am-4pm EST, Saturdays from 9am-4pm EST.
Where are you located?
We are located in Atlanta GA.
What are your holiday hours?
We are closed Memorial Day, 4th of July, Thanksgiving day through the weekend and December 24 - January 1st.
USPS ESTIMATED SHIPPING MAP FOR PRIORITY MAIL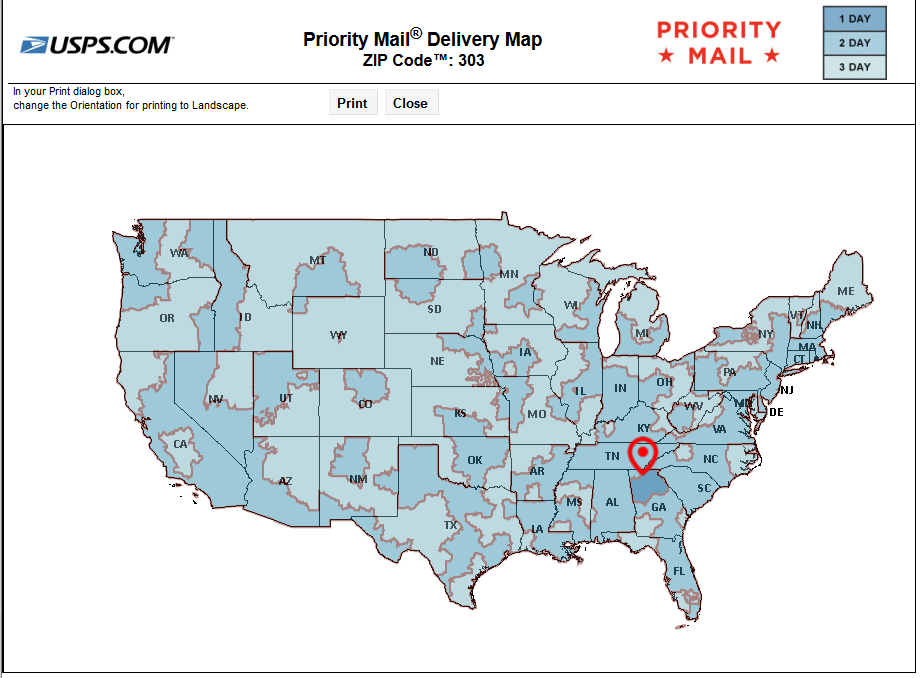 UPS ESTIMATED SHIPPING MAP FOR GROUND MAIL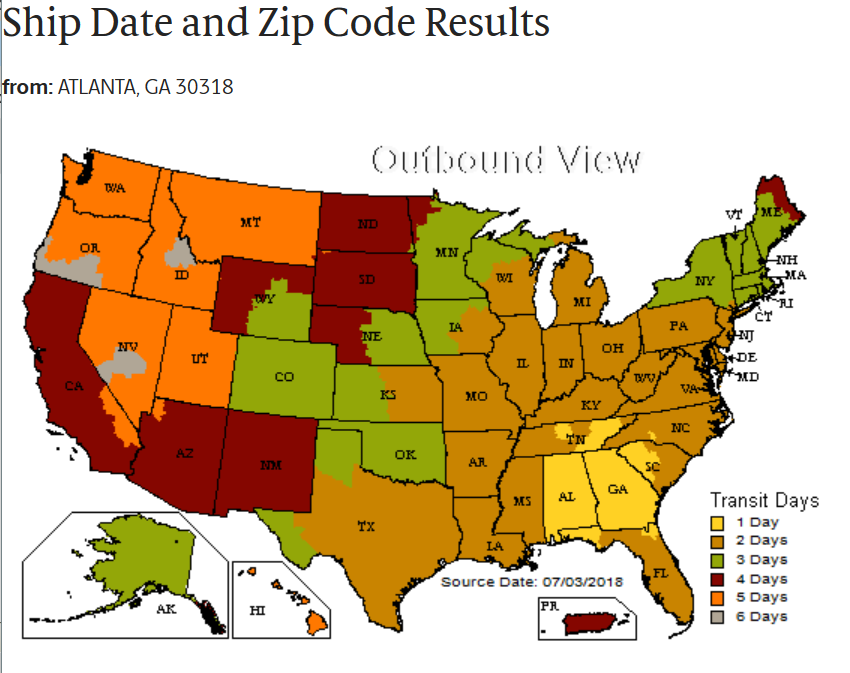 *** These shipping times are only estimates provided by the shipping carrier, other factors can preclude these delivery estimates from the carriers such as weather and mechanical problems and should only be taken as an estimate.  The Pastry Depot is not held responsible for any deviations from the estimated delivery times.