Article number:
19999
Availability:

In stock

(6)
Qualifies for FREE GROUND Shipping
On orders over $50 Use code: GROUND50 See details
Fruit and Nuts as you've never seen before! Valrhona introduces Inspiration, the first ever range of fruit and nut couvertures.
With the development of Raspberry Inspiration, Valrhona experts were able to innovatively replace cocoa with Raspberries, making it possible to use Raspberries like you would a chocolate.
What makes Raspberry exceptional?
- The unique texture of chocolate. Inspiration can be used just like any other Valrhona chocolate couverture.
- An intense flavor and color. Developed using Valrhona's R&D expertise.
- 100% natural ingredients. No preservatives, added colors, or artificial flavors!
This product is naturally dairy free.
Ingredients:
Sugar
Raspberry Powder
Maltodextrin
Cocoa Butter
Emulsifier (Soy Lecithin)
This Product May Contain Traces Of Nuts, Egg Proteins, Gluten And Peanut. Made in a facility that uses milk.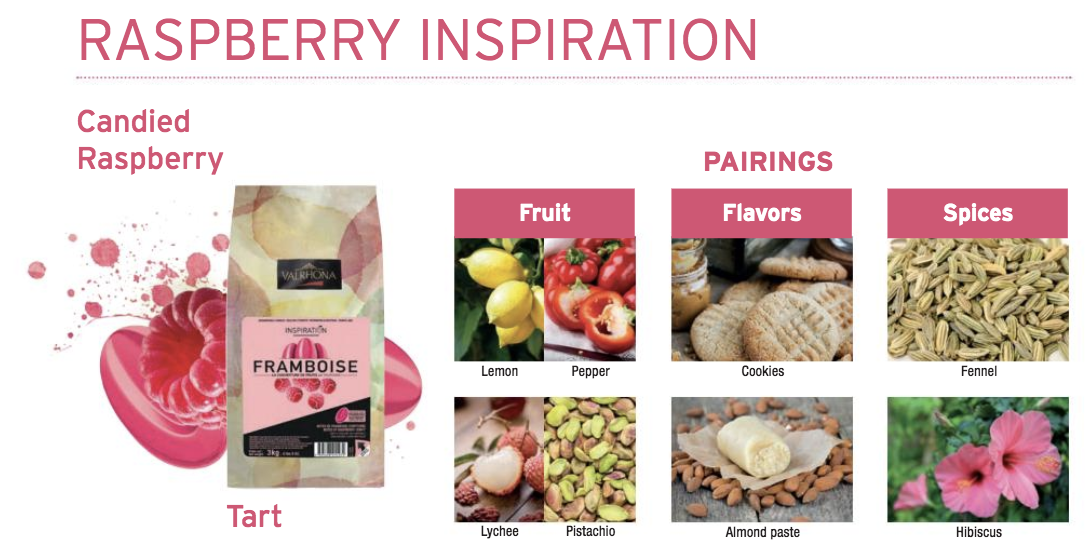 Pairs well with Lemon, Lychee, Pistachio, Peppers, Fennel, and Hibiscus
Optimal application:
Coating, Molding, Mousse, Crémeux, Ganache, Ice creams & sorbets
Storage recommendations: Tightly seal open bags of feves and store at 60-65°F (16-18°C)
Best If Used By Date: 10 months
Composition: Cocoa 35% (min), Sugar 52%, Fat 36%
SHIPPING
Cool Weather: Temperatures below 70F - Orders ship Monday through Friday.
Warm Weather: Temperatures above 70F - Chocolate and perishables ship Monday through Wednesday for USPS Priority and UPS 2-Day Air, or Monday thru Thursday for UPS Next Day Air. Ground shipping should NOT be used during warm weather.
The Pastry Depot is not responsible for product(s) melting if UPS Next Day Air is NOT selected. With all shipping methods, someone must be present to receive the package and bring it inside immediately. See our Warm Weather Shipping policy